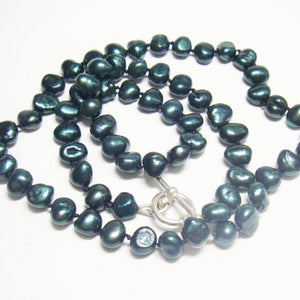 Navy Blue Pearls, Knotted Silk, Silver Necklace
We have 1 in stock.
Regular price $ 94.95 USD Sale
These are gorgeous freshwater pearls that is hand knotted with black silk thread.
The ends are finished with french wire for a clean finish.
The pearls measure approximately 6x5mm and this strand is 19" long which is a generous length for a short style.
This is truly a fantastic piece that would cost much more if you just walked into a department store and bought another of comparable quality.
The finishing is top quality as you will see in the photos.
Wear this to dress up a regular day with some gorgeous colored stones :)
Add little handmade goodness into your life!