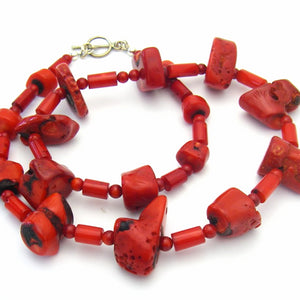 Red Coral Graduated, Silver Necklace
We have 1 in stock.
Regular price $ 154.95 USD Sale
This is entirely red coral strung onto fine multi strand stainless steel wire which is coated in nylon. This necklace is finished securely with a sterling silver clasp.
This strand is 24" long which is a very generous for a short length.
Simply wear this gorgeous necklace and transform a plain outfit with fabulous color!
This is truly a fantastic piece that would cost much more if you just walked into a department store and bought another of comparable quality.
The finishing is top quality as you will see in the photos.
Add little handmade goodness into your life!
AVAILABLE EXCLUSIVELY ONLINE.